Wishing my students and their families a happy and healthy winter vacation!!!
See you all next year!!!
How do you find accurate information on the internet?
A subscription research database is a paid website that has very focused search ability. It is prescreened by experts to check the accuracy of the information given.
Subject Directories are below:
A subject directory is a free website. It is still prescreened by experts but the searching ability is less focused on the topics. A little harder to find the information but still a great resource to use!!
*****Be sure to write down your sources when researching information!! What website did you find your information on?*****
It was a pleasure speaking with each of you at our first-term conferences. I am so very excited to see how much each student will grow in their education throughout this next term, with both your support at home and my support in class!
We were recognized on the Smithtown Homepage for our American Indian unit culminating Pow Wow!
Some of our class were captured in great pictures!!
Be sure to check out the link below!!
I just wanted to take a moment to say that I am so thankful for my wonderful class this year! You are all so kind and caring to each other!
It is a pleasure to come in and teach such a hardworking group of kids!
I promise to keep mixing in the fun, as long as you all keep up the great work!!
Wishing you all a healthy and happy Thanksgiving weekend! :0)
I would like to give a HUGE thank you to the following students and their families for sharing their family Melting Pots with us this month!! Your posters were great! It was so interesting to learn about your family heritage! 
Patrick
Abid
Dear Parents,
            As a culminating activity for our Native American Unit we will be having a Native American Day.  The kids will be rotating from room to room creating different crafts.  At the end of the day we will be having a pow-wow. 
For these crafts we ask for the following supplies: a Pringles container, which is used to create a rainstick and a coffee/tea can (tin, not plastic with handle) to create a drum.  Please have these supplies labeled and to school no later than November 21st. 
We will need 4 parents to help with the crafts.  It will be on Tuesday, November 25th from 9:20-12:20.  Please let me know if you would like to volunteer.
Thank you for your support!
:0) Mrs. Spata
Module 3 has been a little challenging so far. In order to continue to support you at home, I have created a "Module 3 page" with lots of helpful treats!
We have a quiz on Wednesday. Be sure to watch the tutorial videos and to use the practice quiz with answer key to help you to prepare. 
Note to parents: There are always many mathematical ways to solve a math problem. The strategies that I have selected to teach your children are very helpful. Please watch the tutorial videos and look at the notes I have posted. You are welcome to show other ways, however be careful that you are not confusing your child. 
Have a great weekend!!
INFORMATION ON THE FALL CARNIVAL FROM THE TACKAN PTA
Saturday, October 25th is the 2014 Fall Carnival. This is a fun filled day for the entire family. The carnival takes place from 12-4PM in the Tackan Circle in front of the building.
Pre-Registered children's admission is $15 Per child (3 and over) or $38 per family (3 or more). Adults are always free.
Each child will receive: 12 Game Tickets, Prizes at the Prize Tent, 1 Hot Dog and either a water bottle or juice box, unlimited bouncy slide, free facepainting and tattoos, free Candy Corn guess.
Each family will receive 1 Fall Portrait taken by a professional photographer.
Items for sale at the concession will include: Hot Dogs, Hamburgers, Soft Pretzels, Cotton Candy and assorted snacks and drinks.
For a nominal fee kids can decorate a pumpkin, decorate their own cupcake, play the Goldfish game or do Sand Art.
There will be a DJ with fun games for all to enjoy.
A special Toddler Town area will be set up for children under 5 with age appropriate games and prizes for the younger ones.
We defray our costs with the help of our generous Tackan families. Consider donating an item for our concession:
We need all the help we can get. Students 8th grade and up can receive community service credit. Parent volunteers are needed as well. Consider volunteering for a 2 hour time slot.
If you have any questions please contact Bernadette Ackerman at bernadetteackerman@yahoo.com or Stacy Trebing at [email protected]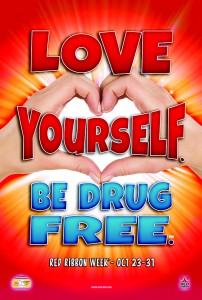 Monday
Slam Dunk Drugs – Wear your favorite jersey
Tuesday
Being Drug Free is No Sweat – Wear sweatpants
Wednesday
Sock it to Drugs Day – Wear Crazy Socks
Thursday
Love Yourself: Be Drug Free – Dress Your Best
Friday
Drugs Are Scary – Wear Your Halloween Costume
Categories